PRODUCT SPECIFICATION
Cannondale HollowGram SL, Carbon Clincher Disc
NEW Synapse Disc, BallisTec Hi-MOD Carbon, Di2 ready, SAVE PLUS, BB30a, flat mount, 12mm thru axle.
NEW Synapse Disc Asymmetric, SAVE PLUS, BallisTec Hi-MOD Carbon, integrated crown race, size-specific design.44-48: 1 1/8″ steerer, 60mm rake51-54: 1-1/8″- 1-1/4″ tapered steerer, 55mm rake56-61: 1-1/8″- 1-3/8″ tapered steerer, 45mm rake
Cannondale HollowGram SL, Carbon Clincher Disc, 19mm inner, 35mm deep, tubeless ready
Cannondale HollowGram SL Disc, 100x12mm, 24h (F) / HollowGram by DT Swiss, 142x12mm, 28h (RR), Center-lock, straight-pull
DT Swiss Aerolite, straight pull
Cannondale HollowGram SiSL2, BB30a, w/ OPI SpideRing SL, 50/34
Shimano R9100, 11-30, 11-speed
Shimano Dura-Ace Di2 9150
Shimano Dura-Ace Di2 9150
Shimano Dura-Ace Di2 9170 hydro disc
Cannondale SAVE SystemBar, Carbon
Cannondale Grip Bar Tape w/Gel, 3.5mm
Synapse Si, 25mm carbon top cap
Shimano Dura-Ace 9170, hydro disc, flat mount, 160/140mm
Fabric Scoop Shallow Pro, Carbon Rail
Cannondale SAVE Carbon, 25.4x350mm (44-56), 400mm (58-61)
Integrated SAVE Handlebar Garmin Mount and Fabric Lumaray front light
TECHNOLOGY INNOVATION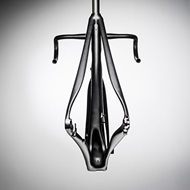 950G FRAME
950G FrameWhen it's just not for the sake of saving grams – in other words, when it's combined with racey snap and sublime feel – there's just no substitute for light weight. 950 grams for a frame like this? Believe it.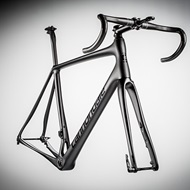 RACE LEVEL STIFFNESS
Race Level StiffnessAn asymmetrically designed frame and fork balance pedalling and disc loads to deliver World Tour sprinter level stiffness. Get ready to lay down power and rail corners like you wouldn't believe.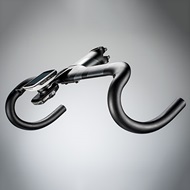 SAVE SYSTEMBAR
SAVE SystembarSAVE SystemBar — ride-smoothing comfort and sleek, integrated style without the hassles of a one-piece design.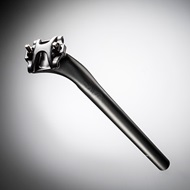 25.4MM SAVE SEATPOST
Save PostThe 25.4mm SAVE post and integrated seat binder work with the rest of the SAVE system to enhance comfort and reduce fatigue.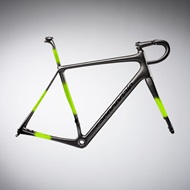 SAVE MICRO-SUSPENSION
Save Micro-SuspensionEngineered to tune the harshness out of choppy road surfaces, and tune you in to what's happening at your tires' contact patches, so that you can concentrate on the important stuff – like nailing the right line or beating the sun home.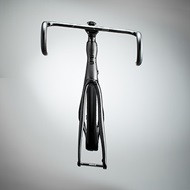 ENDURANCE RACE GEOMETRY
Endurance Race GeometryEndurance Race Geometry strikes the perfect performance balance between full race aggression and the relaxed upright comfort of other "endurance" rigs.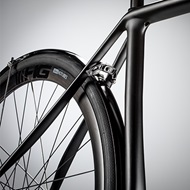 FULL FENDER COMPATIBILITY
Fender UpHidden mounts and a removable seat stay bridge ensure that the Synapse is fully fender-ready for long days with no spray.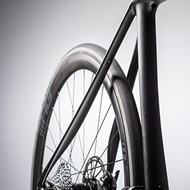 ROOM FOR 32MM TIRES
Room For 32Embrace the backroads, the rough roads, the highways and the byways. With room in the front and rear for tires as big as 32mm (measured/actual) and SAVE Micro-Suspension, Synapse is ready for any road, anywhere.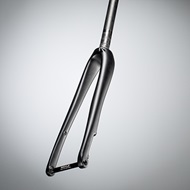 THRU AXLES
Thru AxlesThru-axles front and rear might seem like cost-of-entry these days, but often they're overkill. But ride this bike like it's intended to be ridden and overkill, they ain't.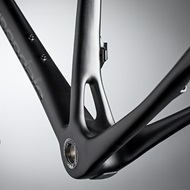 POWER PYRAMID
Power PyramidThe seat tube splits asymmetrically to meet with the wide, 73mm BB30A for maximum stiffness with minimal weight.